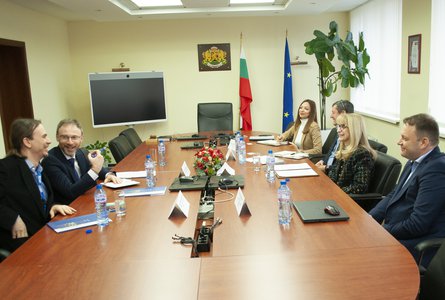 The management of the Bulgarian National Audit Office met with the Election observation mission of the OSCE Office for Democratic Institutions and Human Rights in relation to their task to assess the extent to which the early parliamentary elections on 2 April 2023 are being conducted in accordance with national legislation, OSCE commitments and other international obligations and standards for democratic elections. The Mission consists of 11 international experts based in Sofia and 14 long-term observers deployed throughout the territory of the country. 200 short-term observers are expected to arrive several days before Election day.
Meetings with representatives of the relevant authorities, political parties, civil society, the media and the international community form an integral part of the observation.
The meeting was attended by the President of the Bulgarian NAO Goritsa Grancharova - Kozhareva, the Vice - president Toshko Todorov, the Director of the audit directorate "Specific audits" - Ekaterina Percheva and the Director "Development of the audit activity directorate " - Toma Donchev, and Vasil Vaschanka – Deputy head of mission.
Mrs. Grancharova - Kozhareva recalled the powers of the Bulgarian NAO under the Electoral Code and emphasized that in accordance with the requirements therein, the institution provides publicity, transparency and financial control of the election campaign of the participants in the elections. The Bulgarian NAO maintains a public Unified Register under the Election Code (ERIK), in which basic information about the participants in the elections and declarations about the origin of donated and provided funds for the election campaign are published. The NAO assists the participants in the elections to comply with their obligations through instructions and brochures, which has led to a reduction in violations, said Ms. Grancharova - Kozhareva. The requirement for donors to declare more detailed information about the sources of funds donated or provided to election participants provides certainly for greater transparency.
The representatives of the mission showed interest in the audit of the reports of the political parties under the Political Parties Act and the audit of election campaigns under the Electoral Code. Mr. Vaschanka was interested in whether Bulgarians living abroad can make donations, if all donations are checked, whether the parties report their work with social networks, if the total amount of funding allowed under the Election Code was ever exceeded, etc.
The Bulgarian NAO management confirmed that it will continue the enforcement of international standards in the control of the financing of political parties and election campaigns and relies on the joint work with OSCE.